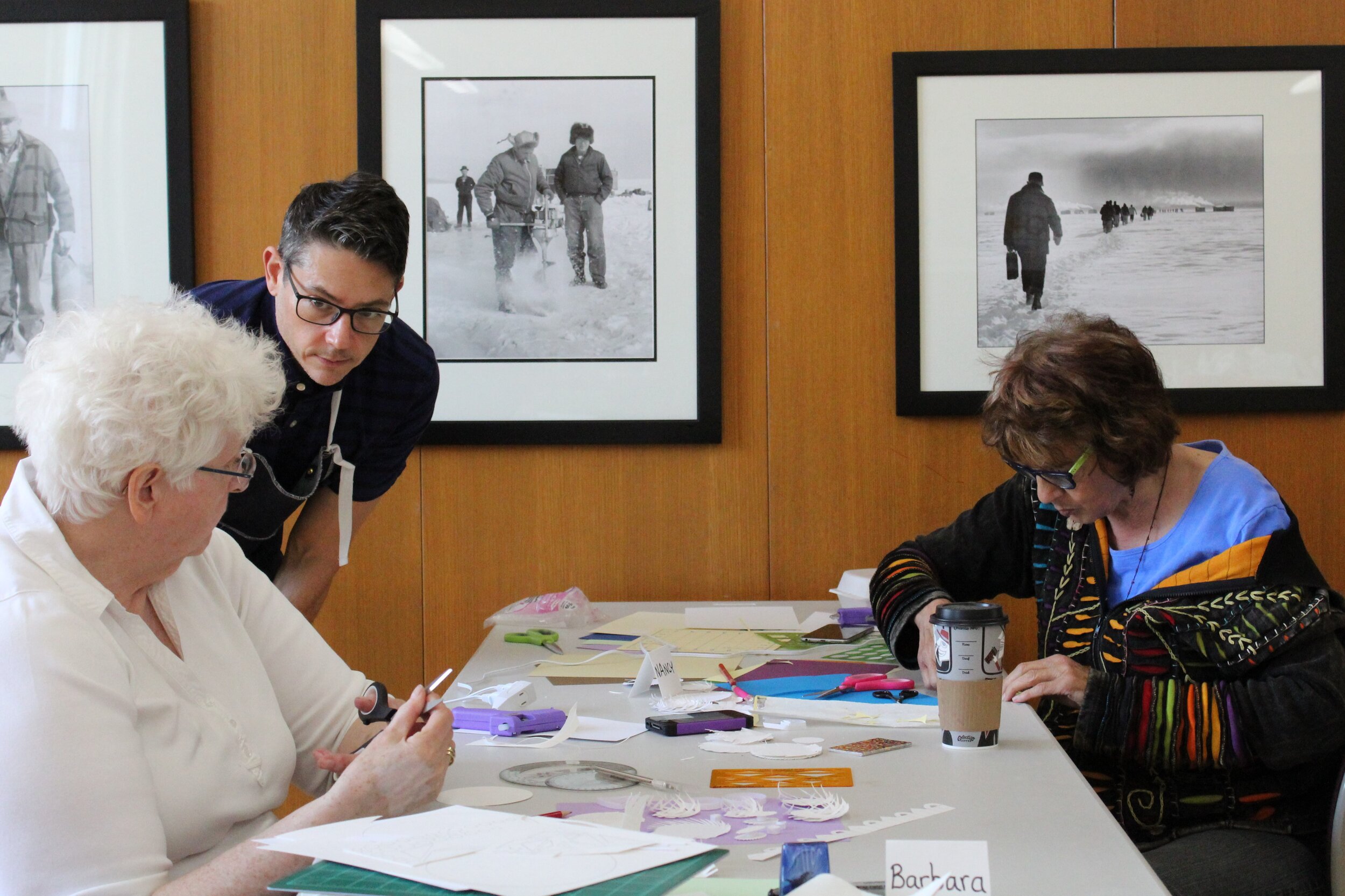 It's Friday. You walk through the doors of Town Square with a package of fresh vegetables and flowers that you purchased directly from growers at the Market on the Town Square lawn…
You pause in the lobby to see the work of this month's featured Lobby Gallery artist…
Upstairs, the Green Lake Bird and Nature Club is meeting…
A group of giggling children pass by on their way to a mask-making class in the working art studios downstairs…
Two young women are chatting on their way to yoga class…
At the front desk, a couple is signing up as new members of Green Lake Fitness…
Out back, on mill Pond Terrace, the 20-something crowd is relaxing at Town Square Tap, and talking about getting the gang together for a cooking class at Town Square. They're also planning to dress up for this month's Town Square Bingo.
At Town Square Community Center, you'll find an incredible force for vibrancy, bringing our community together and providing events and programs that bring even more people into Green Lake.
We believe that anything is possible… and we're usually right.
Our Mission
The mission of Town Square Community Center is to enrich the lives of the Green Lake community members, family, and friends by providing cultural, social, recreational, educational, and economic opportunities for people of all ages.
Our History
In 2011, after more than a century occupying its gracious courthouse building at the center of Green Lake, the County of Green Lake moved to a new facility on the outskirts of the city. There were conversations. Ideas. Requests for proposal. What could be done with the now-abandoned structures? With a courthouse building on the National Register of Historic Places, an annex from the 1960s, and a jail/sheriff's office added in the 1980s, the functionally-obsolete property would present a challenge to any developer.
In late 2011, several community members developed a plan to transform the property into a community center and approached the county. There was much hesitation. What if it doesn't work? What if a better offer comes along? Should we just tear the buildings down?
More conversations. More requests for proposals. More ideas. Meanwhile, keeping the building was costing money month after month. Should the county just turn off the historic building's utilities for the winter and hope for the best? The Town Square founders pleaded NO!
In early 2012, after a year of reviewing suggestions for the property, an ad-hoc committee set up by the City and County recommended the Town Square Community Center proposal as the most likely to succeed while benefiting the community.
On April 17, 2012, Green Lake County voted to sell the property to Town Square's non-profit organization for $1.00. And on May 12, 2012, the Green Lake County Clerk handed over the keys.
For the next three months, teams of volunteers removed old furnishings, tore up old carpeting, pried off plywood walls, painted, scrubbed and polished the buildings. Meanwhile, believers began to jump on board. And on August 11, 2012, Town Square opened its doors with a Yoga and Pilates Studio, a Lobby Art Gallery, the Lester Schwartz Gallery, A commercial kitchen business incubator and the offices of the Green Lake Association.
Since that time, Town Square has grown exponentially each year, now offering a full range of programs and events, a 24-hour fitness center, farm and artisan markets, a taproom, indoor and outdoor event spaces, working art studios and more. It also home to a many of the community's most active non-profit organizations and clubs.
Town Square is truly the heart of our community. But, of course, we've just begun…